Media Resources
Nature
For the Teacher
Parents/Caregivers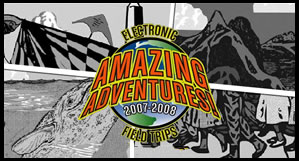 Tune In to Live Field Trips!
During the 2007-2008 school year, NHPTV Knowledge Network will be airing a series of live electronic field trips. These Electronic Field Trips are the result of partnerships between Ball State University and museums across the country. We will air four field trips during the year. These field trips are part of a larger instructional package that includes webisodes that begin airing daily a week prior to the live television broadcast; interactive websites with activities, simulations, and games; classroom lessons; and the live television broadcast. To receive all the curriculum materials, teacher must register with the site. Registration is free. When you register, where it says method of payment, select the Best Buy Children's Foundation Scholarship. Learn More and Register

Tails From The Tetons - Aired 10/16/2007
The Nine Who Made A Difference - Aired 12/4/2007
A Whale Story: A South Seas Adventure




TUESDAY, FEBRUARY 26, 2008
10 a.m. and 1 p.m.
Grades 3-8
Every fall, gray whales migrate from cold northern seas near Alaska all the way south to warmer waters off the shores of Mexico. This 6,000-mile journey is the longest migration of any mammal, and it provides a spectacular scene for visitors. In this EFT, we'll also get up close and personal with these giant mammals who range from 40-50 feet long and can weigh up to 73,000 pounds. We will learn about migratory patterns, life cycles, dangers faced by gray whales, ecosystems, research, and how we can protect these majestic mammals.
Field Of Colors: Flying Objects On The National Mall




TUESDAY, APRIL 1, 2008
10 a.m. and 1 p.m.
Grades K-5
The Smithsonian Kite Festival is a spectacular event that is traditionally part of the National Cherry Blossom Festival on the National Mall in Washington, DC. Kite flyers attend from the U.S. and all over the world, filling the skies around the Washington Monument with color and beauty. Classroom students will be witnesses to the pageantry as they create their own kites, learning about math and science concepts along the way. A particular emphasis will be on the power of wind and weather. This EFT is specifically geared toward younger students, suitable for grades K-5.
What's On

Prime Time

1/7 Beginnings
Archaeological discoveries, DNA, climate science and oral tales cast light on India's deep past. Airs from 9-10 p.m. R 1/9 at 1 p.m.

1//7 Power of Ideas
Explore the revolutionary years after 500 BC, the Age of Buddha, using archaeology and legend. Airs from 10-11 p.m. R 1/16 at 1 p.m.
Note: Life of Tape Educational Rights
What's On

Instructional Television

Airs January 10-12 from 3:30-5:30 a.m. and Janaury 13 from 3:30-4:00 a.m.
This series helps students learn about different cultures by going on exciting journeys of discovery with children who guide them through their everyday life. In each lesson a child introduces his/her surroundings, the architecture, favorite secret places, friends, family and everything that makes up a particular day in that city.
What's On
Children's Schedule