Heteromyidae - kangaroo rats, pocket mice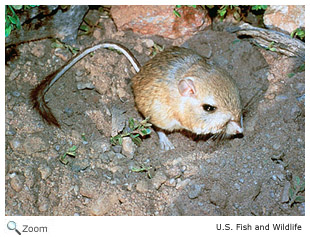 There are around 62 species of rodents in this family. Despite their name, kangaroo rats and pocket mice are not rats or mice! They are nocturnal and are found in western North America, Central America, and South America.
Many species in this family are found in deserts or grasslands. They have fur-lined cheek pouches, round eyes, and round ears. Some species like the kangaroo rats, have long legs and long rear feet for jumping! They have long tails with tufts of fur on the end. Pocket mice are smaller than kangaroo rats and their don't have long rear legs and feet.
The species in this family eat seeds and plant parts. They usually store food in their cheek pouches and bring it back to their burrow. Many species in this family don't need to drink a lot of water to survive and some speci

es don't need to drink water at all!
World Status Key


Least Concern

Near Threatened

Vulnerable

Endangered

Critically Endangered

Extinct in Wild

Extinct
Status taken from ICUN Redlist. If no status is listed, there is not enough data to establish status, or there is no status data for the species.
US Status Key


Threatened in US

Threatened in NH

Endangered in US

Endangered in NH

Introduced
Status taken from US Fish and Wildlife and NH Fish and Game
New Hampshire Species

North/Central American Species

None
Little Desert Pocket Mouse - Chaetodipus arenarius
Narrow-skulled Pocket Mouse - Chaetodipus artus
Bailey's Pocket Mouse - Chaetodipus baileyi
California Pocket Mouse - Chaetodipus californicus
Dalquest's Pocket Mouse - Chaetodipus dalquesti
Chihuahuan Desert Pocket Mouse - Chaetodipus eremicus
San Diego Pocket Mouse - Chaetodipus fallax
Long-tailed Pocket Mouse - Chaetodipus formosus
Goldman's Pocket Mouse - Chaetodipus goldmani
Hispid Pocket Mouse - Chaetodipus hispidus
Rock Pocket Mouse - Chaetodipus intermedius
Lined Pocket Gopher - Chaetodipus lineatus [dd]
Nelson's Pocket Mouse - Chaetodipus nelsoni
Desert Pocket Mouse - Chaetodipus penicillatus
Sinaloan Pocket Gopher - Chaetodipus pernix
Baja Pocket Mouse - Chaetodipus rudinoris
Spiny Pocket Mouse - Chaetodipus spinatus
Agile Kangaroo Rat - Dipodomys agilis
California Kangaroo Rat - Dipodomys californicus
Gulf Coast Kangaroo Rat - Dipodomys compactus
Desert Kangaroo Rat - Dipodomys deserti
Texas Kangaroo Rat - Dipodomys elator
San Quintin Kangaroo Rat - Dipodomys gravipes
Heermann's Kangaroo Rat - Dipodomys heermanni
Giant Kangaroo Rat - Dipodomys ingens
San Jose Island Kangaroo Rat - Dipodomys insularis
Margarita Island Kangaroo Rat - Dipodomys margaritae
Merriam's Kangaroo Rat - Dipodomys merriami
Houserock Chisel-toothed Kangaroo Rat-Dipodomys microps
Nelson's Kangaroo Rat - Dipodomys nelsoni
San Joaquin Kangaroo Rat - Dipodomys nitratoides


North/Central American Species

Ord's Kangaroo Rat - Dipodomys ordii
Panamint Kangaroo Rat - Dipodomys panamintinus
Phillip's Kangaroo Rat - Dipodomys phillipsii
Dulzura Kangaroo Rat - Dipodomys simulans
Banner-tailed Kangaroo Rat - Dipodomys spectabilis
Stephens' Kangaroo Rat - Dipodomys stephensi
Narrow-faced Kangaroo Rat - Dipodomys venustus
Caribbean Spiny Pocket Mouse - Heteromys anomalus
Southern Spiny Pocket Mouse - Heteromys australis
Desmarest's Spiny Pocket Mouse - Heteromys desmarestianus
Gaumer's Spiny Pocket Mouse - Heteromys gaumeri
Nelson's Spiny Pocket Mouse - Heteromys nelsoni
Mountain Spiny Pocket Mouse - Heteromys oresterus
Panamanian Spiny Pocket Mouse - Liomys adspersus
Mexican Spiny Pocket Mouse - Liomys irroratus
Painted Spiny Pocket Mouse - Liomys pictus
Salvin's Spiny Pocket Mouse - Liomys salvini
Jaliscan Spiny Pocket Mouse - Liomys spectabilis
Owyhee River Kangaroo Mouse - Microdipodops megacephalus
Soda Spring Valley Kangaroo Mouse - Microdipodops pallidus
White-eared Pocket Mouse - Perognathus alticolus
Arizona Pocket Mouse - Perognathus amplus
Olive-backed Pocket Mouse - Perognathus fasciatus
Plains Pocket Mouse - Perognathus flavescens
Silky Pocket Mouse - Perognathus flavus
San Joaquin Pocket Mouse - Perognathus inornatus
Los Angeles Little Pocket Mouse - Perognathus longimembris
Great Basin Pocket Mouse - Perognathus merriami
Great Basin Pocket Mouse - Perognathus parvus
Species Around the World

Location Key
Africa Asia Australia/Oceania Europe North/Central America South America NH Species


Little Desert Pocket Mouse - Chaetodipus arenarius
Narrow-skulled Pocket Mouse - Chaetodipus artus
Bailey's Pocket Mouse - Chaetodipus baileyi
California Pocket Mouse - Chaetodipus californicus
Dalquest's Pocket Mouse - Chaetodipus dalquesti
Chihuahuan Desert Pocket Mouse - Chaetodipus eremicus
San Diego Pocket Mouse - Chaetodipus fallax
Long-tailed Pocket Mouse - Chaetodipus formosus
Goldman's Pocket Mouse - Chaetodipus goldmani
Hispid Pocket Mouse - Chaetodipus hispidus
Rock Pocket Mouse - Chaetodipus intermedius
Lined Pocket Gopher - Chaetodipus lineatus [dd]
Nelson's Pocket Mouse - Chaetodipus nelsoni
Desert Pocket Mouse - Chaetodipus penicillatus
Sinaloan Pocket Gopher - Chaetodipus pernix
Baja Pocket Mouse - Chaetodipus rudinoris
Spiny Pocket Mouse - Chaetodipus spinatus
Agile Kangaroo Rat - Dipodomys agilis
California Kangaroo Rat - Dipodomys californicus
Gulf Coast Kangaroo Rat - Dipodomys compactus
Desert Kangaroo Rat - Dipodomys deserti
Texas Kangaroo Rat - Dipodomys elator
San Quintin Kangaroo Rat - Dipodomys gravipes
Heermann's Kangaroo Rat - Dipodomys heermanni
Giant Kangaroo Rat - Dipodomys ingens
San Jose Island Kangaroo Rat - Dipodomys insularis
Margarita Island Kangaroo Rat - Dipodomys margaritae
Merriam's Kangaroo Rat - Dipodomys merriami



Houserock Chisel-toothed Kangaroo Rat -Dipodomys microps
Nelson's Kangaroo Rat - Dipodomys nelsoni
San Joaquin Kangaroo Rat - Dipodomys nitratoides
Ord's Kangaroo Rat - Dipodomys ordii
Panamint Kangaroo Rat - Dipodomys panamintinus
Phillip's Kangaroo Rat - Dipodomys phillipsii
Dulzura Kangaroo Rat - Dipodomys simulans
Banner-tailed Kangaroo Rat - Dipodomys spectabilis
Stephens' Kangaroo Rat - Dipodomys stephensi
Narrow-faced Kangaroo Rat - Dipodomys venustus
Caribbean Spiny Pocket Mouse - Heteromys anomalus
Southern Spiny Pocket Mouse - Heteromys australis
Desmarest's Spiny Pocket Mouse-Heteromys desmarestianus
Gaumer's Spiny Pocket Mouse - Heteromys gaumeri
Nelson's Spiny Pocket Mouse - Heteromys nelsoni
Paraguaná Spiny Pocket Mouse - Heteromys oasicus
Mountain Spiny Pocket Mouse - Heteromys oresterus
Ecuadoran Spiny Pocket Mouse - Heteromys teleus
Panamanian Spiny Pocket Mouse - Liomys adspersus
Mexican Spiny Pocket Mouse - Liomys irroratus
Painted Spiny Pocket Mouse - Liomys pictus
Salvin's Spiny Pocket Mouse - Liomys salvini
Jaliscan Spiny Pocket Mouse - Liomys spectabilis
Owyhee River Kangaroo Mouse-Microdipodops megacephalus
Soda Spring Valley Kangaroo Mouse - Microdipodops pallidus
White-eared Pocket Mouse - Perognathus alticolus
Arizona Pocket Mouse - Perognathus amplus
Olive-backed Pocket Mouse - Perognathus fasciatus
Plains Pocket Mouse - Perognathus flavescens
Silky Pocket Mouse - Perognathus flavus
San Joaquin Pocket Mouse - Perognathus inornatus
Los Angeles Little Pocket Mouse - Perognathus longimembris
Great Basin Pocket Mouse - Perognathus merriami
Great Basin Pocket Mouse - Perognathus parvus
Additional Information
Resource Key


Profile

Photos

Video

Audio
Banner-tailed Kangaroo Rat - Dipodomys spectabilis




The banner-tailed kangaroo rat is found in Arizona, New Mexico, Texas, and Mexico.
Source: Arkive Intended Audience: General Reading Level: Middle School
Desert Kangaroo Rat - Dipodomys deserti





The desert kangaroo rat is found in(Arizona, California, Nevada, Utah, and Mexico.
Source: Arkive Intended Audience: General Reading Level: Middle School
Giant Kangaroo Rat - Dipodomys ingens







The giant kangaroo rat is found in the San Joaquin Valley in California.
Source: Arkive Intended Audience: General Reading Level: Middle School
Nelson's Spiny Pocket Mouse - Heteromys nelsoni




The Nelson's spiny pocket mouse is found in Guatemala and Mexico.
Source: Arkive Intended Audience: General Reading Level: Middle School