Jacanidae - jacanas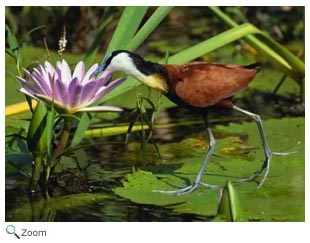 Jacanas are found in tropical areas around the world. They are wading birds and have long legs and large feet with four long toes that help them walk on aquatic vegetation. Jacanas eat insects and other invertebrates.
There are eight species of birds in this family: the lesser jacana, the African jacana, the Madagascar jacana, the northern jacana, comb-crested jacana, the bronze-winged jacana, the pheasant-tailed jacana, and the wattled jacana.
The northern jacana and the wattled jacana are found in Central and South America. The northern jacana can be found as far north as southern Texas.
World Status Key


Least Concern

Near Threatened

Vulnerable

Endangered

Critically Endangered

Extinct in Wild

Extinct
Status taken from ICUN Redlist. If no status is listed, there is not enough data to establish status, or there is no status data for the species.
US Status Key

Threatened in US

Threatened in NH

Endangered in US

Endangered in NH

Introduced
Status taken from US Fish and Wildlife and NH Fish and Game
New Hampshire Species

North/Central American Species

None
Wattled Jacana - Jacana jacana
Northern Jacana - Jacana spinosa
Species Around the World

Location Key
Africa Asia Australia/Oceania Europe North/Central America South America NH Species

African Jacana - Actophilornis africanus
Madagascar Jacana - Actophilornis albinucha
Pheasant-tailed Jacana - Hydrophasianus chirurgus
Comb-crested Jacana - Irediparra gallinacea



Wattled Jacana - Jacana jacana
Bronze-winged Jacana - Metopidius indicus
Lesser Jacana - Microparra capensis

Additional Information
Resource Key


Profile

Photos

Video

Audio
Jacanas



Jacanas are very skilled at walking on lily pads.
Source: San Diego Zoo Intended Audience: General Reading Level: Middle School
African Jacana - Actophilornis africanus





The African jacana is found in Angola, Benin, Botswana, Burkina Faso, Burundi, Cameroon, Central African Republic, Chad, Congo, Côte d'Ivoire, Equatorial Guinea, Ethiopia, Gabon, Gambia, Ghana, Guinea, Guinea-Bissau, Kenya, Liberia, Malawi, Mali, Mauritania, Mozambique, Namibia, Niger, Nigeria, Rwanda, Senegal, Sierra Leone, Somalia, South Africa, Sudan, Swaziland, Tanzania, Togo, Uganda, Zambia, and Zimbabwe.
Source: Internet Bird Collection Intended Audience: General Reading Level: Middle School
Bronze-winged Jacana - Metopidius indicus






The bronze-winged jacana is found in Bangladesh, Cambodia, China, India, Indonesia, Lao s, Malaysia, Myanmar, Nepal, Pakistan, Thailand, and Vietnam.
Source: Internet Bird Collection Intended Audience: General Reading Level: Middle School
Comb-crested Jacana - Irediparra gallinacea






The comb-crested jacana is found in Australia, Indonesia, Malaysia, Papua New Guinea, the Philippines, and East Timor.
Source: Internet Bird Collection Intended Audience: General Reading Level: Middle School
Lesser Jacana - Microparra capensis





The lesser jacana is found in Angola, Botswana, Burkina Faso, Burundi, Cameroon, Central African Republic, Chad, Congo, Côte d'Ivoire, Kenya, Malawi, Mali, Mozambique, Namibia, Niger, Nigeria, Rwanda, South Africa, Sudan, Swaziland, Tanzania, Uganda, Zambia, and Zimbabwe
Source: Internet Bird Collection Intended Audience: General Reading Level: Middle School
Madagascar Jacana - Actophilornis albinucha





The Madagascar jacana is found in Madagascar.
Source: Internet Bird Collection Intended Audience: General Reading Level: Middle School
Northern Jacana - Jacana spinosa





The northern jacana is found in Belize, Costa Rica, Cuba, Dominican Republic, El Salvador, Guatemala, Haiti, Honduras, Jamaica, Mexico, Nicaragua, Panama, Puerto Rico, and the United States.
Source: Internet Bird Collection Intended Audience: General Reading Level: Middle School
Northern Jacana - Jacana spinosa





Female northern jacanas mate with up to four individual males and lay eggs as frequently as every nine days.
Source: Animal Diversity Web Intended Audience: General Reading Level: Middle School
Pheasant-tailed Jacana - Hydrophasianus chirurgus






The pheasant-tailed jacana is found in Bangladesh, Cambodia, China, India, Indonesia, Japan, Laos, Malaysia, Myanmar, Nepal, Oman, Pakistan, Philippines, Singapore, Sri Lanka, Taiwan, Thailand, and Vietnam.
Source: Internet Bird Collection Intended Audience: General Reading Level: Middle School
Wattled Jacana - Jacana jacana







The wattled jacana is found in Argentina, Aruba, Bolivia, Brazil, Chile, Colombia, Ecuador, French Guiana, Guyana, Netherlands Antilles, Panama, Paraguay, Peru, Suriname, Trinidad and Tobago, Uruguay, and Venezuela.
Source: Internet Bird Collection Intended Audience: General Reading Level: Middle School