Passeridae - Old World Sparrows, Snow Finches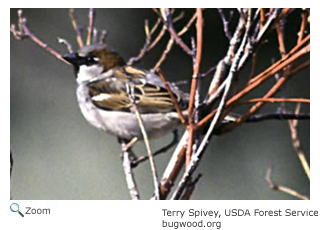 The birds in this family are native to Europe, Asia, and Africa. A few species, like the house sparrow, have been introduced around the world.

Birds in this family are found in open habitats like woodlands, wetlands, grasslands, and agricultural areas and are frequently found in urban and suburban areas. They are small birds, between 5-7 inches in length. They have short, thick bills; short, pointed wings; short legs; and stocky bodies. Most species are brown or gray in color with black or white markings. Males are usually larger than females and more brightly colored.

The birds in this family usually feed in flocks and eat insects, seeds, fruits, and berries. American sparrows and Old World sparrows are not closely related. American sparrows are members of the Emberizidae family.

Passeridae Photo Gallery
World Status Key


Least Concern

Near Threatened

Vulnerable

Endangered

Critically Endangered

Extinct in Wild

Extinct

Not Enough Data
Status and range is taken from ICUN Redlist.
U.S. Status Key
Threatened in US Endangered in US Introduced
Status taken from US Fish and Wildlife. Click on U.S. status icon to go to the U.S. Fish and Wildlife species profile.
New Hampshire Status Key
Threatened in NH Endangered in NH Breeds in NH (birds)
Status taken from NH Fish and Game
Location Key


Africa

Asia

Australia/Oceania

Europe

North America

South America

NH

Click for More Info

Click for Image
| | | |
| --- | --- | --- |
| New Hampshire Species | | North/Central American Species |
| House Sparrow - Passer domesticus | | Eurasian Tree Sparrow - Passer montanus |
Other Species Around the World

Rufous-tailed Weaver - Histurgops ruficaudus
Black-winged Snowfinch - Montifringilla adamsi
Plain-backed Snowfinch - Montifringilla blanfordi
Small Snowfinch - Montifringilla davidiana
White-winged Snowfinch - Montifringilla nivalis
Rufous-necked Snowfinch - Montifringilla ruficollis
White-rumped Snowfinch - Montifringilla taczanowskii
Afghan Snowfinch - Montifringilla theresae
Saxaul Sparrow - Passer ammodendri
Somali Sparrow - Passer castanopterus
Kordofan Sparrow - Passer cordofanicus
Southern Gray-headed Sparrow - Passer diffusus
House Sparrow - Passer domesticus
Chestnut Sparrow - Passer eminibey
Arabian Golden Sparrow - Passer euchlorus
Plain-backed Sparrow - Passer flaveolus
Parrot-billed Sparrow - Passer gongonensis
Northern gray-headed Sparrow - Passer griseus
Abd al Kuri Sparrow - Passer hemileucus
Spanish Sparrow - Passer hispaniolensis
Iago Sparrow - Passer iagoensis
Socotra Sparrow - Passer insularis
Sudan Golden Sparrow - Passer luteus
Cape Sparrow - Passer melanurus
Dead Sea Sparrow - Passer moabiticus

Eurasian Tree Sparrow - Passer montanus
Southern Rufous Sparrow - Passer motitensis
Sind Sparrow - Passer pyrrhonotus
Kenya Rufous Sparrow - Passer rufocinctus
Russet Sparrow - Passer rutilans
Shelley's Sparrow - Passer shelleyi
Desert Sparrow - Passer simplex
Swahili Sparrow - Passer suahelicus
Swainson's Sparrow - Passer swainsonii
Pale Rock Sparrow - Petronia brachydactyla
Bush Petronia - Petronia dentata
Rock Sparrow - Petronia petronia
Yellow-spotted Petronia - Petronia pyrgita
Yellow-throated Petronia - Petronia superciliaris
Chestnut-shouldered Petronia - Petronia xanthocollis
Sociable Weaver - Philetairus socius
Donaldson-smith's Sparrow-weaver - Plocepasser donaldsoni
White-browed Sparrow-weaver - Plocepasser mahali
Chestnut-backed Sparrow-weaver -Plocepasser rufoscapulatus
Chestnut-crowned Sparrow-weaver - Plocepasser superciliosus
Gray-headed Social-weaver - Pseudonigrita arnaudi
Black-capped Social-weaver - Pseudonigrita cabanisi
Speckle-fronted Weaver - Sporopipes frontalis
Scaly Weaver - Sporopipes squamifrons
Additional Information
Key:

Profile

Photos

Video

Audio
Black-capped Social-weaver - Pseudonigrita cabanisi






The black-capped social-weaver is found in Ethiopia, Kenya, Somalia, and Tanzania.
Source: Internet Bird Collection Intended Audience: General Reading Level: Middle School Teacher Section: No
Black-winged Snowfinch - Montifringilla adamsi




The black-winged snowfinch is found in China, India, Nepal, and Pakistan.
Source: Internet Bird Collection Intended Audience: General Reading Level: Middle School Teacher Section: No
Cape Sparrow - Passer melanurus






The Cape sparrow is found in Angola, Botswana, Lesotho, Namibia, South Africa, Swaziland, and Zimbabwe.
Source: Internet Bird Collection Intended Audience: General Reading Level: Middle School Teacher Section: No
Chestnut-backed Sparrow-weaver -Plocepasser rufoscapulatus




The chestnut-backed sparrow-weaver is found in Angola, The Democratic Republic of the Congo, Malawi, and Zambia.
Source: Internet Bird Collection Intended Audience: General Reading Level: Middle School Teacher Section: No
Chestnut-crowned Sparrow-weaver - Plocepasser superciliosus





The chestnut-crowned sparrow-weaver is found in Benin, Burkina Faso, Cameroon, Central African Republic, Chad, The Democratic Republic of the Congo, Côte d'Ivoire, Eritrea, Ethiopia, Gambia, Ghana, Guinea, Guinea-Bissau, Kenya, Mali, Niger, Nigeria, Senegal, Sudan, Togo, and Uganda.
Source: Internet Bird Collection Intended Audience: General Reading Level: Middle School Teacher Section: No
Chestnut-shouldered Petronia - Petronia xanthocollis




The chestnut-shouldered petronia is found in Afghanistan, India, Iran, Iraq, Nepal, Oman, Pakistan, Saudi Arabia, Turkey, and the United Arab Emirates.
Source: Arkive Intended Audience: General Reading Level: Middle School Teacher Section: Yes
Chestnut Sparrow - Passer eminibey





The chestnut sparrow is found in Ethiopia, Kenya, Somalia, Sudan, Tanzania, and Uganda.
Source: Internet Bird Collection Intended Audience: General Reading Level: Middle School Teacher Section: No
Rock Sparrow - Petronia petronia








The rock sparrow is found in northern Africa, southern Europe and central Asia.
Source: Internet Bird Collection Intended Audience: General Reading Level: Middle School Teacher Section: No
Dead Sea Sparrow - Passer moabiticus






The Dead Sea sparrow is found in Afghanistan, Cyprus, Egypt, India, Iran, Iraq, Israel, Jordan, Pakistan, Palestine, Syria, and Turkey.
Source: Internet Bird Collection Intended Audience: General Reading Level: Middle School Teacher Section: No
Desert Sparrow - Passer simplex







The desert sparrow is found in Algeria, Chad, Egypt, Libya, Mali, Mauritania, Morocco, Niger, Sudan, Tunisia, Turkmenistan, and Uzbekistan.
Source: Internet Bird Collection Intended Audience: General Reading Level: Middle School Teacher Section: No
Donaldson-smith's Sparrow-weaver - Plocepasser donaldsoni





Donaldson-smith's sparrow-weaver is found in Ethiopia, Kenya, and Somalia.
Source: Internet Bird Collection Intended Audience: General Reading Level: Middle School Teacher Section: No
Eurasian Tree Sparrow - Passer montanus









The Eurasian tree sparrow is native to Eurasia and Southeast Asia.
Source: Cornell Lab of Ornithology Intended Audience: General Reading Level: Middle School Teacher Section: No
Eurasian Tree Sparrow - Passer montanus









The Eurasian tree sparrow was released into the St. Louis, Missouri, area in 1870. Unlike the house sparrow, it has not spread far and remains in that area in the United States.
Source: Internet Bird Collection Intended Audience: General Reading Level: Middle School Teacher Section: No
Gray-headed Social-weaver - Pseudonigrita arnaudi





The gray-headed Social-weaver is found in Ethiopia, Kenya, Somalia, Sudan, Tanzania, and Uganda.
Source: Internet Bird Collection Intended Audience: General Reading Level: Middle School Teacher Section: No
House Sparrow - Passer domesticus











The house sparrow is native to Eurasia and North Africa, but it has been introduced around the world.
Source: Animal Diversity Web Intended Audience: General Reading Level: Middle School Teacher Section: Yes
House Sparrow - Passer domesticus











The house sparrow was introduced into Brooklyn, New York, in 1851
Source: Cornell Lab of Ornithology Intended Audience: General Reading Level: Middle School Teacher Section: No
House Sparrow - Passer domesticus











The house sparrow eats seeds and insects
Source: Internet Bird Collection Intended Audience: General Reading Level: Middle School Teacher Section: No
Iago Sparrow - Passer iagoensis






The Iago sparrow is found in Cape Verde.
Source: Arkive Intended Audience: General Reading Level: Middle School Teacher Section: Yes
Iago Sparrow - Passer iagoensis






The Iago sparrow is also known as the Cape Verde sparrow.
Source: Internet Bird Collection Intended Audience: General Reading Level: Middle School Teacher Section: No
Northern Gray-headed Sparrow - Passer griseus






The northern gray-headed sparrow is also known as the common gray-headed sparrow. It is found in central and southern Africa.
Source: Internet Bird Collection Intended Audience: General Reading Level: Middle School Teacher Section: No
Pale Rock Sparrow - Petronia brachydactyla





The pale rock sparrow is found in Afghanistan, Armenia, Azerbaijan, Bahrain, Djibouti, Egypt, Eritrea, Ethiopia, Georgia, Iran, Iraq, Israel, Jordan, Kuwait, Lebanon, Oman, Pakistan, Qatar, Saudi Arabia, Sudan, Syria, Turkey, Turkmenistan, and the United Arab Emirates.
Source: Arkive Intended Audience: General Reading Level: Middle School Teacher Section: Yes
Parrot-billed Sparrow - Passer gongonensis




The parrot-billed sparrow is found in Ethiopia, Kenya, Somalia, Sudan, Tanzania, and Uganda.
Source: Internet Bird Collection Intended Audience: General Reading Level: Middle School Teacher Section: No
Plain-backed Sparrow - Passer flaveolus





The plain-backed sparrow is also known as the Pegu sparrow. It is found in Cambodia, Laos, Malaysia, Myanmar, Thailand, and Vietnam.
Source: Internet Bird Collection Intended Audience: General Reading Level: Middle School Teacher Section: No
Rufous-tailed Weaver - Histurgops ruficaudus




The rufous-tailed weaver is found in Kenya and Tanzania.
Source: Internet Bird Collection Intended Audience: General Reading Level: Middle School Teacher Section: No
Russet Sparrow - Passer rutilans





The russet sparrow is found in Bhutan, China, India, Japan, North Korea, South Korea, Laos, Myanmar, Nepal, Pakistan, Russian Federation, Taiwan, Thailand, and Vietnam.
Source: Internet Bird Collection Intended Audience: General Reading Level: Middle School Teacher Section: No
Saxaul Sparrow - Passer ammodendri




The Saxaul sparrow is found in China, Iran, Kazakhstan, Kyrgyzstan, Mongolia, Russian Federation, Tajikistan, Turkmenistan, and Uzbekistan.
Source: Internet Bird Collection Intended Audience: General Reading Level: Middle School Teacher Section: No
Scaly Weaver - Sporopipes squamifrons





The scaly weaver is also known as the scaly-feathered finch. It is found in Angola, Botswana, Namibia, South Africa, Zambia, and Zimbabwe.
Source: Internet Bird Collection Intended Audience: General Reading Level: Middle School Teacher Section: No
Sind Sparrow - Passer pyrrhonotus





The Sind sparrow is found in India and Pakistan.
Source: Internet Bird Collection Intended Audience: General Reading Level: Middle School Teacher Section: No
Sociable Weaver - Philetairus socius






The sociable weaver is found in Botswana, Namibia, and South Africa.
Source: Internet Bird Collection Intended Audience: General Reading Level: Middle School Teacher Section: No
Somali Sparrow - Passer castanopterus




The Somali sparrow is found in Djibouti, Ethiopia, Kenya, and Somalia.
Source: Internet Bird Collection Intended Audience: General Reading Level: Middle School Teacher Section: No
Southern Gray-headed Sparrow - Passer diffusus






The southern gray-headed sparrow is found in Angola, Botswana, Lesotho, Malawi, Mozambique, Namibia, South Africa, Swaziland, Tanzania, Zambia, and Zimbabwe.
Source: Internet Bird Collection Intended Audience: General Reading Level: Middle School Teacher Section: No
Southern Rufous Sparrow - Passer motitensis






The southern rufous sparrow is found in Angola, Botswana, Namibia, South Africa and Zimbabwe.
Source: Internet Bird Collection Intended Audience: General Reading Level: Middle School Teacher Section: No
Spanish Sparrow - Passer hispaniolensis







The Spanish sparrow is found in the Mediterranean region and in central and southwest Asia.
Source: Arkive Intended Audience: General Reading Level: Middle School Teacher Section: Yes
Spanish Sparrow - Passer hispaniolensis








The Spanish sparrow looks a lot like the house sparrow.
Source: Internet Bird Collection Intended Audience: General Reading Level: Middle School Teacher Section: No
Speckle-fronted Weaver - Sporopipes frontalis





The speckle-fronted weaver is found in Benin, Burkina Faso, Cameroon, Central African Republic, Chad, Eritrea, Ethiopia, Gambia, Ghana, Guinea-Bissau, Kenya, Mali, Mauritania, Niger, Nigeria, Senegal, Sudan, Tanzania, and Uganda.
Source: Internet Bird Collection Intended Audience: General Reading Level: Middle School Teacher Section: No
Sudan Golden Sparrow - Passer luteus





The Sudan golden sparrow is found in Burkina Faso, Cameroon, Chad, Egypt, Eritrea, Ethiopia, Gambia, Mali, Mauritania, Niger, Nigeria, Senegal, and Sudan.
Source: Internet Bird Collection Intended Audience: General Reading Level: Middle School Teacher Section: No
Swahili Sparrow - Passer suahelicus



The Swahili sparrow is found in Kenya, Malawi, and Tanzania.
Source: Internet Bird Collection Intended Audience: General Reading Level: Middle School Teacher Section: No
Swainson's Sparrow - Passer swainsonii





Swainson's sparrow is found in Djibouti, Eritrea, Ethiopia, Kenya, and Somalia.
Source: Internet Bird Collection Intended Audience: General Reading Level: Middle School Teacher Section: No
White-browed Sparrow-weaver - Plocepasser mahali






The white-browed sparrow-weaver is found in Angola, Botswana, Ethiopia, Kenya, Lesotho, Malawi, Mozambique, Namibia, Somalia, South Africa, Sudan, Tanzania, Uganda, Zambia, and Zimbabwe.
Source: Internet Bird Collection Intended Audience: General Reading Level: Middle School Teacher Section: No
White-winged Snowfinch - Montifringilla nivalis






The white-winged snowfinch is found from southern Europe through central Asia.
Source: Internet Bird Collection Intended Audience: General Reading Level: Middle School Teacher Section: No