Turnicidae - Buttonquails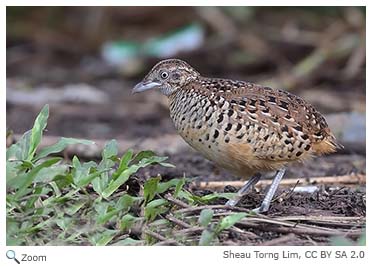 There are 18 species of small ground-dwelling birds found in this family. Buttonquails are found in warm regions in Europe, Africa, Asia, and Oceania. They are small, quail-like birds, 5-7 inches in length.
Buttonquail live in scrubby grasslands and open woodlands. They have plump bodies, small heads, and small bills. They have three front toes and no rear toe. Buttonquails are usually a speckled brown and gray in color. Females are usually larger and more boldly colored than males.
Females mate with more than one male. Males incubate the eggs for 12-13 days and care for the chicks for about two weeks.

Turnicidae Photo Gallery
World Status Key


Least Concern

Near Threatened

Vulnerable

Endangered

Critically Endangered

Extinct in Wild

Extinct

Not Enough Data
Status and range is taken from ICUN Redlist.
U.S. Status Key
Threatened in US Endangered in US
Status taken from US Fish and Wildlife Click on U.S. status icon to go to the U.S. Fish and Wildlife species profile.

New Hampshire Status Key
Threatened in NH Endangered in NH Introduced
Status taken from NH Fish and Game
Location Key


Africa

Asia

Australia/Oceania

Europe

North America

South America

NH

Click for More Info

Click for Image
| | | |
| --- | --- | --- |
| New Hampshire Species | | North/Central American Species |
| None | | None |
Other Species Around the World

Quail-plover - Ortyxelos meiffrenii
Chestnut-backed Buttonquail - Turnix castanotus
Sumba Buttonquail - Turnix everetti
Hottentot Buttonquail - Turnix hottentottus
Red-backed Buttonquail - Turnix maculosus
Black-breasted Buttonquail - Turnix melanogaster
Black-rumped Buttonquail -Turnix nanus
Madagascar Buttonquail - Turnix nigricollis
New Caledonian Buttonquail - Turnix novaecaledoniae


Spotted Buttonquail - Turnix ocellatus
Buff-breasted Buttonquail - Turnix olivii
Red-chested Buttonquail - Turnix pyrrhothorax
Barred Buttonquail - Turnix suscitator
Common Buttonquail - Turnix sylvaticus
Yellow-legged Buttonquail - Turnix tanki
Painted Buttonquail - Turnix varius
Little Buttonquail - Turnix velox
Luzon Buttonquail - Turnix worcesteri
Additional Information

Key:

Profile

Photos

Video

Audio
Sumba Buttonquail - Turnix everetti




The Sumba buttonquail is found in Indonesia.
Source: Arkive Intended Audience: General Reading Level: Middle School Teacher Section: Yes
Chestnut-backed Buttonquail - Turnix castanotus




The chestnut-backed buttonquail is found in Australia.
Source: Arkive Intended Audience: General Reading Level: Middle School Teacher Section: Yes
Black-breasted Buttonquail - Turnix melanogaster





The black-breasted buttonquail is found in Australia.
Source: Arkive Intended Audience: General Reading Level: Middle School Teacher Section: Yes
Madagascar Buttonquail - Turnix nigricollis




The Madagascar buttonquail is found in Madagascar.
Source: Animal Diversity Web Intended Audience: General Reading Level: Middle School Teacher Section: No
Hottentot Buttonquail - Turnix hottentottus




The Hottentot buttonquail is found in South Africa.
Source: HBW Alive Intended Audience: General Reading Level: Middle School Teacher Section: No
Spotted Buttonquail - Turnix ocellatus




The spotted buttonquail is found in the Philippines.
Source: Animal Diversity Web Intended Audience: General Reading Level: Middle School Teacher Section: No
Yellow-legged Buttonquail - Turnix tanki




The yellow-legged buttonquail is found in Bangladesh, Bhutan, Cambodia, China, India, North Korea, South Korea, Laos, Myanmar, Nepal, Pakistan, Russia, Thailand, and Vietnam.
Source: Animal Diversity Web Intended Audience: General Reading Level: Middle School Teacher Section: No
Painted Buttonquail - Turnix varius




The painted buttonquail is found in Australia.
Source: Animal Diversity Web Intended Audience: General Reading Level: Middle School Teacher Section: No
Common Buttonquail - Turnix sylvaticus






The common buttonquail is found in central and southern Africa as well as in India and southeastern Asia and southern Spain.
Source: Animal Diversity Web Intended Audience: General Reading Level: Middle School Teacher Section: No
Quail-plover - Ortyxelos meiffrenii




The quail-plover is also known as the lark buttonquail. It is found in Benin, Burkina Faso, Cameroon, Chad, Ethiopia, Ghana, Kenya, Mali, Mauritania, Niger, Nigeria, Senegal, South Sudan, Sudan, and Uganda.
Source: Animal Diversity Web Intended Audience: General Reading Level: Middle School Teacher Section: No
Barred Buttonquail - Turnix suscitator




The barred buttonquail is found in Bangladesh, Bhutan, Cambodia, China, India, Indonesia, Japan, Laos, Malaysia, Myanmar, Nepal, the Philippines, Singapore, Sri Lanka, Taiwan, Thailand, and Vietnam.
Source: Animal Diversity Web Intended Audience: General Reading Level: Middle School Teacher Section: No