Pluvianellidae - Magellanic plover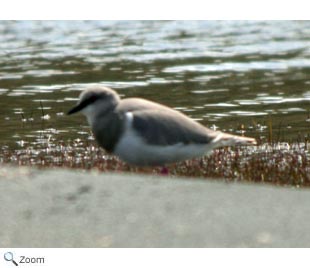 The only member of this family is the Magellanic plover. It is only found in southern most South America. It has characteristics that have confused scientists about how it should be classified!
It is not a plover, although it was placed in the Charadriidae family once. Some thought it was a sandpiper because of its bill and that it should be in the Scolopacidae family. Others thought that the way it feeds it young made it part of the dove or Columbidae family. Using DNA analysis scientists discovered that it was most closely related to the sheathbills in the Chionidae family, but that it was different enough to deserve a family of its own.
The Magellanic plover is a wading bird. It is a soft dove-gray on its uppersides and white on its belly. It has a black bill, pink legs, and red eyes.
It feeds on small invertebrates that it finds on the shore. It often turns over stones and pebbles looking for food, like the ruddy turnstone. It also uses its legs to dig in the mud and sand for prey.
Magellanic plovers nest on the ground. The female lays two eggs, but only one usually survives. Both parents incubate the eggs and feed and care for the chick. The parents feed the chick crop milk like doves feed their chicks. The Magellanic plover is the only wading bird that uses this method to feed its chicks.

World Status Key


Least Concern

Near Threatened

Vulnerable

Endangered

Critically Endangered

Extinct in the Wild

Extinct
Status and range is taken from ICUN Redlist. If no status is listed, there is not enough data to establish status.

US Status Key


Threatened in US

Threatened in NH

Endangered in US

Endangered in NH

Breeds in NH

Introduced
Status taken from US Fish and Wildlife and NH Fish and Game
| | | |
| --- | --- | --- |
| New Hampshire Species | | North/Central American Species |
| None | | None |
Species Around the World

Africa Antarctica Asia Australia/Oceania Europe North America South America NH Species

Magellanic Plover - Pluvianellus socialis



Additional Information
Key:

Profile

Photos

Video

Audio
Magellanic Plover - Pluvianellus socialis





The Magellanic plover is a short-distance migrator. It spends the winter on the shore and migrates a little bit inland during breeding season.
Source: Arkive Intended Audience: General Reading Level: Middle School
Magellanic Plover - Pluvianellus socialis





The Magellanic plover is a short-distance migrator. It spends the winter on the shore and migrates a little bit inland during breeding season.
Source: Cornell Lab of Ornithology Intended Audience: General Reading Level: Middle School