Stercorariidae - skuas, jaegers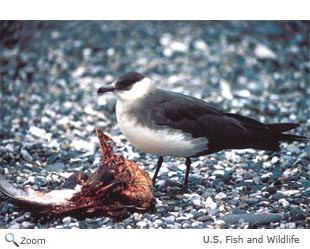 There are 8 species in this family of seabirds. They are medium to large predatory gull-like birds. Jaeger is the name given the skuas found in North America.
Skuas and jaegers are gray or brown with white markings on their wings. They have long bills with a hooked tip and large webbed feet with claws. Skuas and jaegers are kleptoparasitic birds. That means they get their food by stealing it from other animals. A large part of their diet, up to 95%, is made up food they steal from other seabirds like gulls and terns. Skuas and jaegers harass and chase other birds in the air and force them to drop whatever it is they are carrying. Some species also chase birds on the ground to steal their food. Once the other bird has dropped its catch, the skua or jaeger will swoop down and catch the food before it hits the water or the ground. When they are on their breeding grounds they also prey on eggs, chicks, and lemmings.
World Status Key


Least Concern

Near Threatened

Vulnerable

Endangered

Critically Endangered

Extinct in the Wild

Extinct
Status and range is taken from ICUN Redlist. If no status is listed, there is not enough data to establish status.
US Status Key


Threatened in US

Threatened in NH

Endangered in US

Endangered in NH

Breeds in NH

Introduced
Status taken from US Fish and Wildlife and NH Fish and Game
New Hampshire Species

North/Central American Species

Parasitic Jaeger -  Stercorarius parasiticus
Pomarine Jaeger -  Stercorarius pomarinus

Great Skua - Stercorarius skua
Long-tailed Jaeger -  Stercorarius longicaudus
South Polar Skua -  Stercorarius maccormicki
Species Around the World

Africa Antarctica Asia Australia Europe North/Central America South America NH Species

Brown Skua -  Stercorarius lonnbergi
Chilean Skua -  Stercorarius chilensis
Great Skua - Stercorarius skua
Long-tailed Jaeger-Stercorarius longicaudu


Parasitic Jaeger -Stercorarius parasiticus
Pomarine Jaeger -Stercorarius pomarinus
South Polar Skua-Stercorarius maccormicki
Southern Skua - Stercorarius antarcticus
Additional Information
Key:

Profile

Photos

Video

Audio